Reviews of 'Auf Wiedersehen, Me Duck'
Folking.com (by Mike Davies) - May 2022
---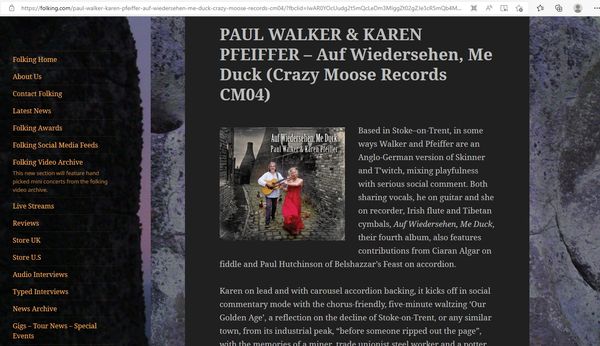 PAUL WALKER & KAREN PFEIFFER – Auf Wiedersehen, Me Duck (Crazy Moose Records CM04)
Based in Stoke–on-Trent, in some ways Walker and Pfeiffer are an Anglo-German version of Skinner and T'witch, mixing playfulness with serious social comment. Both sharing vocals, he on guitar and she on recorder, Irish flute and Tibetan cymbals, Auf Wiedersehen, Me Duck, their fourth album, also features contributions from Ciaran Algar on fiddle and Paul Hutchinson of Belshazzar's Feast on accordion.
Karen on lead and with carousel accordion backing, it kicks off in social commentary mode with the chorus-friendly, five-minute waltzing 'Our Golden Age', a reflection on the decline of Stoke-on-Trent, or any similar town, from its industrial peak, "before someone ripped out the page", with the memories of a miner, trade unionist steel worker and a potter, referencing how the Wedgwood factory made pots for Queen Mary, who "all left their own fingermarks". Paul takes over for the gently fickerpicked 'Where I Live', a love song to his home town ("where I live is what I am"), Karen and Paul returning for another love song, a rearrangement of last year's single, 'What If My Pockets Were Empty?', a poignant song about homelessness ("What if my pockets were empty and no more could I hold my head high? /Could I still claim a seat at your table? /Would I still be that glint in your eye?") and, a reminder, that we're all "just a payday away" and, as Phil Ochs said, "There but for good fortune, down that slippery road go I".
Their playful side surfaces, with hints of Ralph McTell ragtime, brushed drums, double bass and Ciaran on fiddle, on 'The Rejected Songwriters' Club', the title of which pretty sums itself up as Paul sings about songwriting competitions you pay to enter but where the judges are more interested in commercial appeal than poetry, so you should "always set yourself up for a snub". That clearly born of bitter experience, he continues on a more overly autobiographical note with 'The Answer' on which, accompanying himself on fingerpicked guitar with Karen on Irish flute, he reminisces his days working in a pottery factory, packing it in to follow his musical dreams, getting fucked over by the corporate machine in London and his 'Baltimore friend' who disappeared as soon as the money did, giving it all up for a proper job but then the fire being rekindled and, after 22 years in a business suit, swapping it  for a Martin guitar,  returning home and  meeting Karen. More playfulness ensues, this time Karen on lead, with the bluesy 'No Time (The Facebook Blues)' about how social media eats up your day before, as with all good folk acts, they offer up a murder yarn, here The Ballad of the Queen of May on which, to a jaunty strum, Paul recounts the fictional 1890 tale of Aileen Palmer who is crowned 'Queen of May' only to be done in by her jealous rival.
They step away from the originals, for, Paul providing fingerpicked troubadour backing,  Karen to deliver a fine take on Joan Baez's classic song about her affair with Dylan, 'Diamonds and Rust', a staple of their live set, her with added fiddle colour. Then, accompanied by Karen's alto recorder duetting  with Algar's fiddle,  Matt Bishop's electric guitar and Chris Cliff's double bass, Paul sings the brooding dark-hued 'Down To Numbers', a cautionary message  about life that poses the existential question if, when we look back, "is it only down to numbers/Or will we be remembered for the dash?".
Two further covers wind up the studio recordings, first with Karen again on lead and flute for a tender, slow swaying reading of John Spillane's love letter to County Clare 'Under That Old Clare Moon', followed, opening a capella with wind effects backdrop,  by a haunting interpretation of the 1933 protest classic 'Peat Bog Soldiers/Die Moorsoldaten', the pair singing alternative verses, she in German, he in English, their voices coming together for the chorus, the song written (by Johann Esser and Wolfgang Langhoff ), composed (by Rudi Goguel) and first performed in a Nazi concentration camp by prisoners and today an anthem for the Peace movement.
Its first appearance on disc, it ends, as per their concerts, with a live recording of the swayalong playful end of the year parting glass title track ("So, that's it for another year/Goodbye, my friends, good luck/We'll see you in a field somewhere/Auf Wiedersehen, me Duck!"), interpolating 'Show Me The Way To Go Home', the audience in full voice for the finale.
I confess, I'd not come across the duo before, but if they ever turn up in my neck of the woods, I'm definitely keen to discover more.
Mike Davies
Read the review on: Folking.com Website
Get Ready to Rock 19th May 2022 by Jason Ritchie
---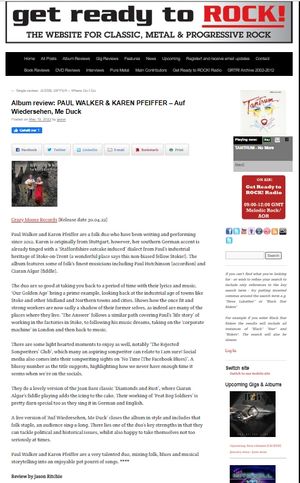 Album review: PAUL WALKER & KAREN PFEIFFER – Auf Wiedersehen, Me Duck
Posted on May 19, 2022 by jason
Crazy Moose Records [Release date 30.04.22]
Paul Walker and Karen Pfeiffer are a folk duo who have been writing and performing since 2012. Karen is originally from Stuttgart, however, her southern German accent is already tinged with a 'Staffordshire oatcake induced' dialect from Paul's industrial heritage of Stoke-on-Trent (a wonderful place says this non-biased fellow Stokie!). The album features some of folk's finest musicians including Paul Hutchinson (accordion) and Ciaran Algar (fiddle).
The duo are so good at taking you back to a period of time with their lyrics and music. 'Our Golden Age' being a prime example, looking back at the industrial age of towns like Stoke and other Midland and Northern towns and cities. Shows how the once fit and strong workers are now sadly a shadow of their former selves, as indeed are many of the places where they live. 'The Answer' follows a similar path covering Paul's 'life story' of working in the factories in Stoke, to following his music dreams, taking on the 'corporate machine' in London and then back to music.
There are some light hearted moments to enjoy as well, notably 'The Rejected Songwriters' Club', which many an aspiring songwriter can relate to I am sure! Social media also comes into their songwriting sights on 'No Time (The Facebook Blues)'. A bluesy number as the title suggests, highlighting how we never have enough time it seems when we're on the socials.
They do a lovely version of the Joan Baez classic 'Diamonds and Rust', where Ciaran Algar's fiddle playing adds the icing to the cake. Their working of 'Peat Bog Soldiers' is pretty darn special too as they sing it in German and English.
A live version of 'Auf Wiedersehen, Me Duck' closes the album in style and includes that folk staple, an audience sing-a-long. There lies one of the duo's key strengths in that they can tackle political and historical issues, whilst also happy to take themselves not too seriously at times.
Paul Walker and Karen Pfeiffer are a very talented duo, mixing folk, blues and musical storytelling into an enjoyable pot pourri of songs. ****
Review by Jason Ritchie
Read the review on: Get ready to Rock Website
Liverpool Sound and Vision - 23 May 2022 by Ian D. Hall
---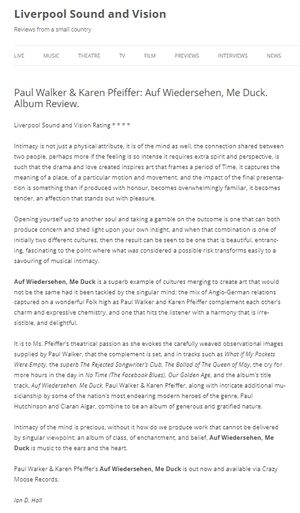 Paul Walker & Karen Pfeiffer: Auf Wiedersehen, Me Duck. Album Review
Liverpool Sound and Vision Rating * * * *
Intimacy is not just a physical attribute, it is of the mind as well, the connection shared between two people, perhaps more if the feeling is so intense it requires extra spirit and perspective, is such that the drama and love created inspires art that frames a period of Time, it captures the meaning of a place, of a particular motion and movement, and the impact of the final presentation is something than if produced with honour, becomes overwhelmingly familiar, it becomes tender, an affection that stands out with pleasure.
Opening yourself up to another soul and taking a gamble on the outcome is one that can both produce concern and shed light upon your own insight, and when that combination is one of initially two different cultures, then the result can be seen to be one that is beautiful, entrancing, fascinating to the point where what was considered a possible risk transforms easily to a savouring of musical intimacy.
Auf Wiedersehen, Me Duck is a superb example of cultures merging to create art that would not be the same had it been tackled by the singular mind; the mix of Anglo-German relations captured on a wonderful Folk high as Paul Walker and Karen Pfeiffer complement each other's charm and expressive chemistry, and one that hits the listener with a harmony that is irresistible, and delightful.
It is to Ms. Pfeiffer's theatrical passion as she evokes the carefully weaved observational images supplied by Paul Walker, that the complement is set, and in tracks such as What If My Pockets Were Empty, the superb The Rejected Songwriter's Club, The Ballad of The Queen of May, the cry for more hours in the day in No Time (The Facebook Blues), Our Golden Age, and the album's title track, Auf Wiedersehen, Me Duck, Paul Walker & Karen Pfeiffer, along with intricate additional musicianship by some of the nation's most endearing modern heroes of the genre, Paul Hutchinson and Ciaran Algar, combine to be an album of generous and gratified nature.
Intimacy of the mind is precious, without it how do we produce work that cannot be delivered by singular viewpoint; an album of class, of enchantment, and belief, Auf Wiedersehen, Me Duck is music to the ears and the heart.
Paul Walker & Karen Pfeiffer's Auf Wiedersehen, Me Duck is out now and available via Crazy Moose Records.
Ian D. Hall
Read the review on: Liverpool Sound and Vision website
Reviews of 'The Whole Charade'
 

REVIEW FROM www.livingtradition.co.uk 

 

 

 

 

 

 

 

PAUL WALKER & KAREN PFEIFFER - The Whole Charade
Crazy Moose Records CM03

This Anglo-German duo has a very strong following in and around The Potteries area, and is now beginning to gain some degree of national recognition, well outside the Staffordshire/Cheshire catchment area.

An Paul and Karen have done that latter ambition no harm with this mix of self-penned songs interspersed with the occasional Folk classic. The album arrives in a beautifully presented Digipak: one furthermore, that is a first for me, in that it features photos of exquisite sculptures of the duo's heads (made by Gillie Nicholls at her Stafford studio). 

From even first listening, one is aware that one is in the presence of two very skilled operators. (Three, if you include multi-instrumentalist and album producer Scott Ralph.)

The songs that the duo self-penned cover a range of subject matter, and are all as well-crafted as they are well-performed. Karen has a seriously impressive, mezzo-soprano voice: one that would not be out of place on the opera stage. Yet it is a singing voice that blends very well with Paul's, and shows not a scintilla of a German accent, in that she sings mainly in RP English (although track 3 sees her sounding peculiarly Irish...or maybe I have my ears on wrong).

And those harmonies are quite stirring and almost Winter Wilsonish in beauty (particularly on the bridge of the title song, and the chorus of the powerful Peter Hames song, Ordinary Man).

Of the self-penned, the standout track is Lift This Weight. It is a song on the present industrial dereliction in Stoke-on-Trent, and a fond memory of very different days when there was the camaraderie to be cherished from what was otherwise a hard working life. Of the famous songs they have chosen to cover, they do very respectable versions of classics like Caledonia, What's The Use Of Wings?, and The L&N Don't Stop Here Any More: versions that don't make me pine for the originals.

This album will get a thumbs up from me, but I want to end a favourable review with a word of warning. Please don't flag-up the fact that you are offering two bonus tracks to the 11, when the track that opens the CD is (after a few seconds of a music box intro), just 52 seconds of Sir Samuel Ferguson's The Lark In The Clear Air, which is marked as "Part One", and track 11 is shown as "Part Two" of the same, and is timed at a similar 50 seconds.

Perhaps that breaking of the lovely Irish song in two (to turn 10 tracks into 11), has a deep meaning that has gone over my head. But I think not: it smacks of a pretentious gimmick. Dear Paul and Karen: don't do it. You are too good for such ruses. 

www.paulwalkermusic.co.uk

Dai Woosnam

 
Folker, Summer 2018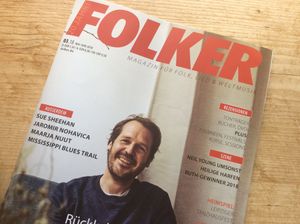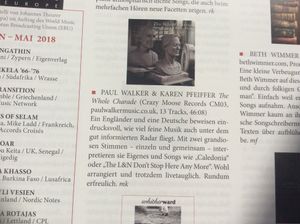 FolkWorld online, May 2018
"The Whole Charade," a lovely burlesque of traditional British/Anglo-American and original ballads, rendered with a subtle groove and great passion for the pure stuff."
Folk Monthly, December 2018